Creative Movement with Marilyn LeFort
With her B.S. in Early Childhood Education and an M.A. in Special Education, Marilyn's lively program of creative movement activities promotes body awareness, physical fitness, rhythm, motor coordination and freedom of expression. The children just love to move and groove during their time with Marilyn. Marilyn visits the children at PNS monthly. Marilyn has also performed for Waltham Public Schools, Studio of Creative Movement in Waltham, Kendall Nursery & Kindergarten in Belmont, Weston Country Day School and FACE Children's Center in Natick.
Music with Jill Buchanan
For the past 23 years, Jill has been specializing in music therapy services with young children. Using improvised music, she supports her clients and their families with a variety of sounds, encouraging them to explore and learn about their environment.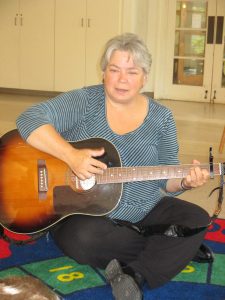 She also teaches piano to children and adults, including individuals with special needs. As the founder of Hand in Hand Music, she runs music and movement groups for families with very young children.
Science with Steve Lechner
Stephen Lechner, owner and operator of THE SCIENCE WORKS!, has been educating and entertaining children and teachers throughout New England for over twenty years. Steve has a degree in Early Childhood Education (Wheelock College, 1986; certified K-3, a Master of Education Degree (Lesley College, 1996; specializing in developing Science Learning Centers), and five years of experience in Museum Education (former Education Director of the Children's and Science Discovery Museums in Acton, MA).