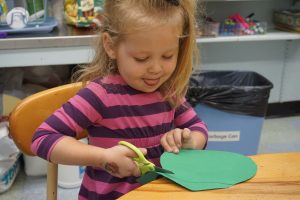 The school day is from 9am – 12pm. There are two separate classrooms within the school.  A professional teacher with extensive training in Early Childhood Development leads each class.
Younger Class
Children in the 3/4 year old class can attend school on 3, 4, or 5 mornings a week.  There can be 13 children in the class each day.
Older Class
Children in the  4/5 year old class can choose to attend school 4 or 5 mornings a week. On any given day the maximum enrollment is 12.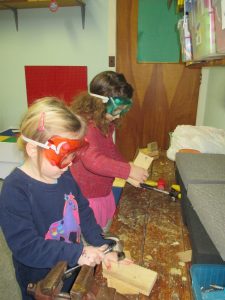 Each day a parent helper assists the teacher with the teacher's activities and daily clean up, as well as providing the class with a snack.
Extended Day Program
For 2017-2018 our Extended Day program will be held from noon to 2:00 p.m. on Tuesdays if there is sufficient demand from the enrolled families. This begins the third week of school and ends in May. Children bring their own lunch and enjoy a mixture of free play and planned activities. The cost for Extended Day is $30/per day. There is a small discount if paid in full for the year.  If there is room, families can use this on an "as needed" basis.
In addition to our two classrooms we have a Discovery Room with a magna wall, discovery table, workbench, light table and duplo area. We have access to a kitchen for small cooking projects. We also have a very spacious, well-equipped playground and access to a large, indoor play space.