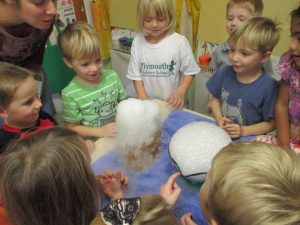 Located in the heart of Belmont Center, the Plymouth Nursery School is best known for its nurturing environment and quality teaching staff.
As a semi-cooperative preschool, parents are actively involved in their child's experience through volunteering on a specific committee, participating in social functions and being the parent helper in their child's classroom.
Plymouth Nursery School was opened in 1946, as a non-profit, semi-cooperative school sponsored by Plymouth Congregational Church to benefit the greater community.
A Board comprised of church members, staff, and parents oversees it. Religious instruction is not included in our curriculum.
Here's what some of our parents are saying about us:
Katherine, my 4 year old daughter started at Plymouth Nursery School last year after moving to Belmont from NYC. I was concerned about her transition to a new town and a new school. Miss Lisa's 3s class provided a welcoming and warm environment. Katherine is excited to go to school every day and is sad when she can't attend on the weekends. PNS is a great place for children and also a wonderful place for parents to connect with other families. We loved PNS so much that my son has just started this year.

-Heather Nahas, mother of 2 PNS students
Plymouth is fun because I like to play and go to circle time. My friends keep me happy. I like Miss Lori alot.

-Carly, a 4 year old in Miss Lori's class
Our son started this year at PNS in Miss Nancy's class. One of the wonderful things about Nancy is that she completely accepts the children for who they are and meets their needs as individuals. We were nervous about how our son would adapt to a new school, but Miss Nancy's warmth and patience helped him become comfortable with the structure of the classroom quickly. We can't believe how much he has grown this year, and, most importantly, he loves going to school. We're thrilled that he's ready to start kindergarten in the fall on such a positive note.

-Clare Crawford, parent of PreK student
We loved Plymouth Nursery School. Both of our children attended, and it was a terrific experience for each, from start to finish. the teachers were so loving, gentle and creative. And joining the community of other Plymouth families was a great way to meet people when we first moved to Belmont

-Margaret Waters and Thomas Battle